These are great resources to help develop an eternal perspective and to help ground both young men and parents in foundational elements of Christianity.
The One-Year Book of Josh McDowell's Youth Devotions, Volume 1
Begin each day with a committed heart for God! Check out Josh McDowell's One Year Book of Youth Devotions and launch yourself on an unforgettable adventure in making right choices. The daily readings and reflection questions may make you laugh or really think, and each will help you discover how to do the right thing during the ups and downs of daily life. Be challenged and inspired to live for God like never before!

Mere Christianity
Arguably the 20th century's most influential Christian writer, C.S. Lewis sought to explain and defend the beliefs that nearly all Christians at all times hold in common. His simple yet deeply profound classic, originally delivered as a series of radio broadcasts, is a book to be thoroughly digested by believers and generously shared with skeptics.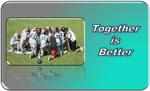 Together is Better
Regular, on-line Christ-centered devotionals to help emphasize an eternal perspective. As much as the Marlins love and dedicate themselves to the game of baseball, it is just that – a game. Even at the highest levels and with all of its emotion, it is still a game. However, the Marlins strive to use this game to help develop, teach, and demonstrate a Christ-centered, eternal perspective

My Utmost for His Highest
For nearly seventy-five years, countless millions of Christians the world over have trusted the spiritual companionship of Oswald Chambers's classic daily devotional, My Utmost for His Highest. Addressing a wide range of topics, including discipleship, faith, love, and obedience these brief scripture-based readings will draw you into God's presence and form you as a disciple of the Risen Lord. You'll treasure their insight, still fresh and vital, and you'll discover what it means to offer God your very best for His greatest purpose – to truly offer Him your utmost for His highest.
Fellowship of Christian Athletes Daily Devotional

The following daily devotional is from the Fellowship of Christian Athletes. After clicking on a devotional, the FCA site may open in your current browser. Simply hit the 'back' button to return to our Marlins 16u page.